Nowadays, most of the people around the world are using Smartphones to ease their life and has made their phones a medium to entertain themselves. Everybody admires the experience of Android OS, even some people who are using Apple miss their Android device due to one or another reason.
The adaptability, tons of apps, highly customizable options and loads of other things on Android make it one of the best mobile OS. But, do you know that you can experience all these features on your computer as well? Yes, now you can run all Android apps on your PC with great ease.
If you are using a Mac, getting any Android app on your system running macOS is quite easier and simpler using an Android emulator. It is software that creates a virtual Android environment on your Mac computer and lets you run all Android apps on your system. Due to the features and functionalities of Android emulators, they are gaining more and more popularity among the people.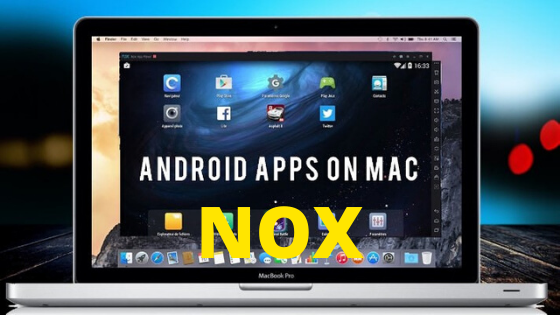 No matter what type of Android app you want to run on your computer, it can be a communication app, business app, games app, online portal app or other, android emulator helps you to enjoy all apps on the large screen of your Mac.
Nox App Player is one such emulator which has been downloaded by millions of people all through the world. If you have ever used or heard about BlueStacks, this emulator too works in the same manner, with high stability and performance. But, many people prefer to choose Nox App Player as the best alternative to BlueStacks because many games that are unable to run properly on BlueStacks work great on Nox.
More to this, any type of Android apk file can easily be run on Mac computer, which means if any app you want to install on your Mac is not available in the Google Play Store, you can install it directly using its apk file from the web on the emulator.
Let's go through some of the major features of the Nox App Player to know more about this powerful emulator.
Nox App Player is much

faster and smoother

as compared to other similar emulators.
Nox for Mac is

stable and reliable

and you will find using this emulator on Mac is much easier than using it on Windows.
It is highly capable of

running any type of app by using its apk file

on the computer. You can use and enjoy all Android apps on your system using the Nox App Player.
Nox App Player

comes with Android 4.4.2 KitKat

, which means that any app can easily be downloaded from Google Play Store, thus making download and installation of apps much easier.
This emulator offers a multitasking feature that works seamlessly without any issue.
It is quite compatible; no extra hardware is required to run Nox on Mac.
This emulator is available for free, which means it lets you install Android apps without paying a single penny.
Now, it's time to proceed further and get the steps of how to install the Nox App Player on Mac.
Steps to install Nox App Player on Mac
If you want to download and use Nox App Player for your Mac computer, you need to follow the given steps attentively. The installation steps are quite simple and your emulator will be ready on your Mac in a few minutes.
First of all, you have to launch a web browser on your Mac computer.
Now, you have to download the Nox App Player Mac version by clicking the below-given download button.

The next step is to save this file at your desired location, if you do not feel like saving on its default location.
Once it is downloaded completely, it will be saved as the Nox App Player DMG file.
Now, you need to use these steps to learn how to install the Nox App Player on a Mac computer.
Go to the location where you have saved the Nox App Player DMG file.
Double-click this file to initialize the installation of the Nox App Player on your Mac.
The next step is to agree on the terms and conditions to continue the installation process.
After its installation, launch it and you can now start using the emulator to get your Android apps on a Mac computer.
Wrapping Up
If you want to run Android apps and games on your Mac computer, just go through this step-by-step guide to get this done using Nox App Player. Get the best use of its amazing features that provide you a chance to enhance the experience of using Android apps on Mac.
Instead of wasting time on looking for other solutions to run Android on Mac, the best idea is to install and start using Nox App Player from today only.