Whatsapp is one of the most popular messaging apps that is used by millions of people each day. While it allows you to communicate with your friends & family in both individual and group chats, it's also useful for sending files and live location.
Share photos and videos which are among the two popular features that have made this app a hit among users of all ages. The regular users appreciate the convenience it provides when they want to share information or send broadcasts to multiple users at a time.
Wherever you are, WhatsApp works seamlessly across multiple platforms to offer you the best connectivity while utilizing only a fraction of your data to relay messages. Most new devices today come with a preloaded WhatsApp app which can be easily updated from the Google Play Store in no time.
You also don't have to worry about the hassle of saving the chat as it automatically makes a backup of your data to your google drive account each day at a pre-allocated time.
Although WhatsApp is primarily used by Android users around the world, you could also access it on your Windows PC to get rid of the habit of unlocking your phone each time you get a notification.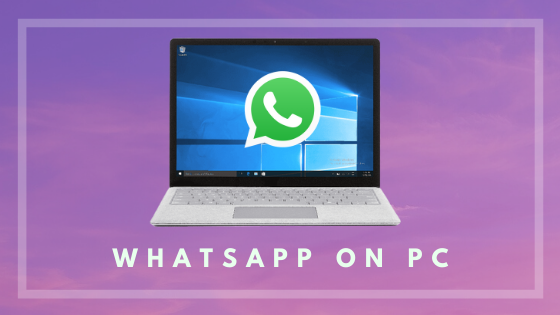 If you've been scratching your heads about how to view and use WhatsApp to watch images and videos on your Windows devices, then you have come to the right source.
This guide will help you with how to install and use WhatsApp on Windows PC.
Get the best Android emulator
The most optimal way to access any Android app on Windows PC is by using an Android Emulator. It is used to emulate an Android environment on your respective Operating Systems to allow you the use of all the features of any desired Android application.
Thus to install WhatsApp on your system, you'll be required to get an Android emulator. Picking a suitable Android emulator is a task of paramount importance as it determines the behavior of apps based on its stability, customizations, and performance.
The Nox App Player is a special Android Emulator that can be used to install WhatsApp Messenger on your PC for free. After using this emulator you can easily connect with strangers and loved ones living in distant states and countries to share any kind of information that you may wish.

Why Nox App Player?
Being a medium to run Android designed apps on Windows PC, it's easy to determine that this emulator will be beneficial in not only acquiring the app but also making great use of it during our day to day lives.
You can enjoy plenty of Android games too with this emulator that allows key mapping or watch multiple shows and movies on a larger screen by using any streaming app.
The Nox App Player also supports additional features that allow you to perform various actions similar to what you can do with any android device.
Without further ado, let's get you the WhatsApp Messenger on your PC with this easy guide.
Install WhatsApp Messenger on PC using Nox App Player
This will take merely a few minutes to successfully get installed without any issues only if you carefully follow the given steps.
The first step is to obtain the Nox App Player and you can get it by using the download button provided below.

Once the download is complete, run the installer with administrator privileges by right-clicking and selecting the option.
Soon as it begins, follow the on-screen prompts with caution to successfully install the emulator on your storage.
Upon completion, you can find a shortcut to the emulator on the desktop. Double-click it to execute the application.
You'll be greeted with the home screen where you must seek the Google play store. Login into the Play Store and search within it the term: 'WhatsApp'
Pick the official application which will also be the latest version by default and click on the install button to initiate the download.
Once the download is complete, you'll find it's app icon on your home screen, Tap or click it to run the application.
Your WhatsApp Messenger is ready to use on a large screen after logging into it with your credentials. That's all!
Final Words
By using this guide, you can easily install the WhatsApp Messenger on your PC without any difficulties. Use the Nox App Player emulator to access WhatsApp anywhere and forget the need to carry a phone to stay connected with your loved ones.
Get the emulator today for free to run all the apps that you may want on your Windows PC.