Ever wanted to edit your videos on the big screen? Are you getting tired of creating and editing videos on a small screen of your mobile? Then you should try to download KineMaster by using Nox player on your PC.
Nox player, which is relatively the popular Android emulator, is winning the internet and users as well as critics with its extensively handy features and a clean interface. And unlike other emulators, it is totally free-to-use and not plagued by ads and subscription offers.
Downloading this emulator doesn't even take long. Just search, download, and install this app on your PC within a few minutes. Once it is up and running on your PC, download and play games directly from the integrated Google Play Store.
Useful Features of Nox App Player for KineMaster
The multi-instance option is available in this app for users, so you can work on many projects and can edit more than one video through KineMaster concurrently.
It runs on Android 4.4.2 KitKat kernel, which is a very updated version for an emulator.
It includes a simple user-friendly interface that is super easy to explore.
This emulator also allows you to customize your setting in any way you want it, so you can make great videos using video editing apps like KineMaster.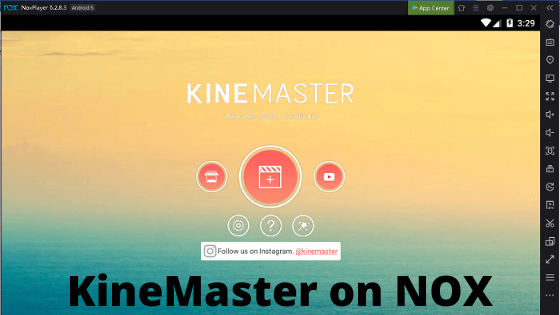 You can opt for a completely full screen or for 720p or full HD resolution as per choice and your editing project.
You can even change the graphics properties of this emulator to let it run any app without any trouble or lag in the video.
You can even change the key settings and put a click of the mouse on the virtual screen. This feature is best for video editing apps because you can assign a specific key for every option available in KineMaster – Best video editing app.
Macro and video recorder features let you record your screen, this will let you record your progress on video editing and you can learn from your mistakes from re-watching the recorded video or you can even share your experience.
How to Install KineMaster Using Nox Player?
For you to install KineMaster, firstly, you have to download an emulator and there is no better emulator for a video editing app than Nox player. Here, steps to download are given below.
Firstly, download Nox from this download link and install it on your PC by following the instructions given on the screen.
After installation, open it and it will set up and display just like an Android device.
If you have an APK file of KineMaster, the just drop in Nox player, it will install it. But if you don't have an APK file, then download it from the inbuilt Play Store.
Upon successfully installing this app, just launch it and start your project all at once using this great emulator.
To Conclude
This emulator works great even on the most basic PC having minimum specs. You can run many apps from the play store smoothly, including KineMaster. It will run smoothly and will work wonders by using it through this emulator.